Aug. 12, 2013
Well now that everyone is used to the time difference, it's time to come back to Albuquerque. Players have to get ready for the first day of classes in a week, and the rest of us have to return to a desk somewhere. However, we had one day left on Australia's World Famous Gold Coast, and we spent the morning catch waves...we all got a surfing lesson.
We met our instructors, who had us sign the waiver (We didn't see anything about death or dismemberment, so we all signed the dotted line...) and then outfitted us in wetsuits. Amazingly, the suit for Alex kind of fit him.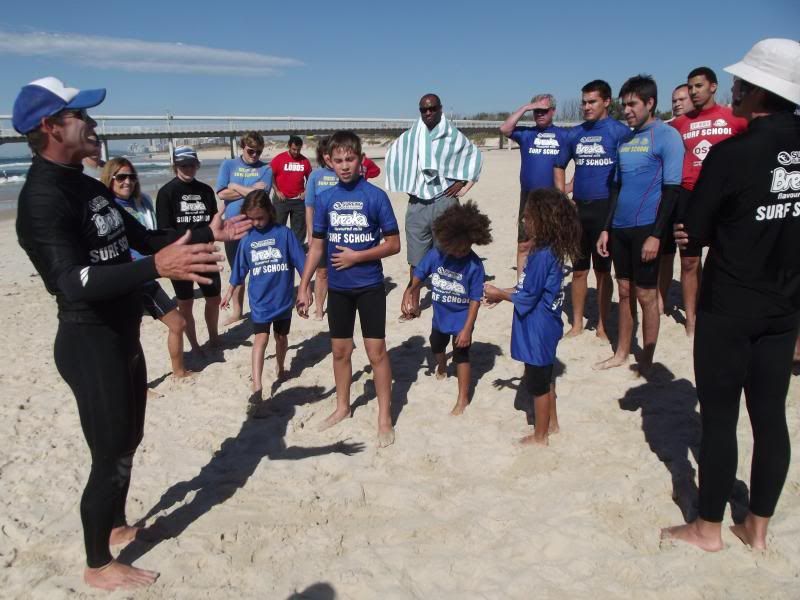 The team then carried boards across a dune and to the beach. When they say the Gold Coast, they aren't kidding. The softest golden sand was there, and in a cool twist, it was a dog beach, so all these dogs were running around as well. It made for a fun environment.
It's probably no shock that Hugh was the best at surfing, although several folks were able to get up on the board. After a good two hour morning in the surf, dubbed by some of us at "Pointe Breaking Bad", we were pretty much exhausted. After our lunch it was free time to do a little souvenir shopping and use up the rest of our Australian currency.
With that, it was just dinner at a local iconic steakhouse and packing, as we have a 5:15 am wake-up call. The time change might ruin some of us, but no one here will forget this trip, most of all Hugh, who was so excited to have his teammates on his home turf.
A sincere thanks to all of you back home reading the blogs these past nine days, and the same for our new friends in Australia. This country and these people of beautiful, and I will do everything I can to return here again. We made many great new friends, and saw several UNM graduates and fans at our three games. Many of us became fans of new sports (Rugby League and Australian Rules Football), and many folks here that watched us play are now fans of the Lobos as well.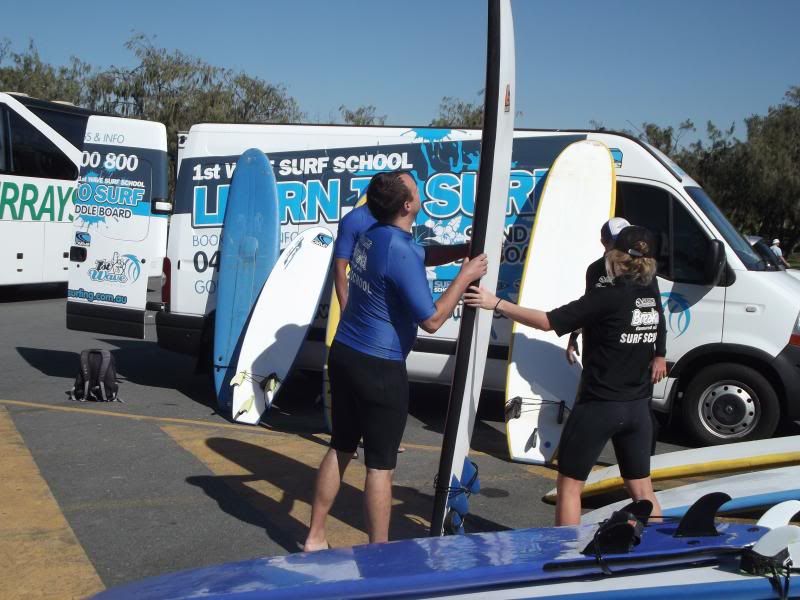 Also, a huge thanks to Jeff Eisenberg at Yahoo Sports. While we have been posting blogs here, Jeff has also posted a blog for all nine days over at the Dagger Blog. There are a few must read websites if you are a hoops fan or junkie, and the Yahoo Dagger Blog is at the top of the list.
Oh, and this officially will be the longest day for any of us...we leave the hotel at 6 a.m. on August 13, and leave Brisbane at 10 a.m. on August 13. We land in L.A. at 6 a.m. ... meaning we technically will have travelled backwards in time four hours. We will definitely be going at least 88 miles per hour.
Cheer Mates, where's the green chile?
UNM Hoops
Thank you for choosing to donate to University of New Mexico Athletics! We encourage you to contribute $50 or more to become a Lobo Club member.

If you have ever made a donation to the Lobo Club online, over the phone, or in person, it is very likely that you already have an account for our Online Donation Center and do not need to create a new one. If you are unsure or don't remember your login information, please contact the Lobo Club at 505-925-CLUB (2582) and we will check our system.

As always, thank you for your support of the Lobo Club, the Gateway to Giving for University of New Mexico Athletics.
Questions? Please call: 505-925-CLUB (2582)